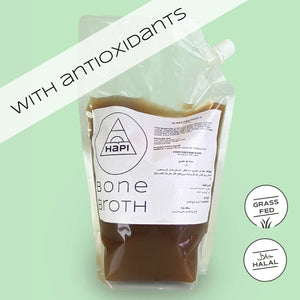 Grass-fed Beef 1 Bone Broth | w/ Anti-Oxidants | 1,000ml
Regular price Dhs. 88.00 Dhs. 86.00
"With Antioxidants"
1 Litre HAPI Beef Bone Broth / 1 pack = 1 litre
Ingredients: Grass-fed beef bones, organic coffee, cocoa, mushroom, fresh basil, fresh thyme, onion, garlic, tomato paste, bay leaf, grape juice vinegar, purified water, sea salt. Made with 100% EU grass-fed beef bones.
*complimentary tasters are available only upon visit at Al Khazzan Park
Delivery:

Dubai:
Next day deliveries for orders before 3PM
48hrs for orders after 3PM
Abu Dhabi City:
every Thursday and Sunday
In Store Collection at HAPI Restaurant inside Al Khazzan Park - Opposite City Walk
Health Benefits of Beef Bone Broth.
Of the different broth varieties, beef bone broth has the highest levels of hydroxylysine, which is an amino acid needed to form strong collagen bonds. Beef bone broth also contains other amino acids, including glutamine, glycine, and proline.
The glutamine in beef bone broth benefits your body by providing energy to your immune cells and supporting the antioxidant glutathione. Glutamine is vital to maintain gut barrier function and intestinal immunity.
How To Store your HAPI Bone Broth?
5 days in the Chiller
60 days in the Freezer
We recommend portioning the broth into smaller cubes or containers before freezing it to avoid defrosting or thawing the whole batch whenever you'd like to consume it.
Simply heat up and drink straight from the cup, or conveniently use to cook with at home.