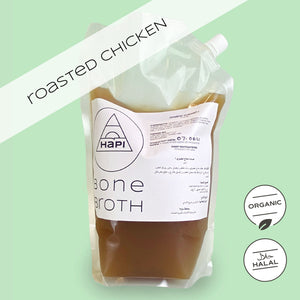 Organic Chicken 2 Bone Broth | Roasted | 1,000ml
Regular price Dhs. 80.00 Dhs. 76.00
"Roasted Chicken"
1 Litre HAPI Chicken Bone Broth / 1 pack = 1 litre
Ingredients: Roasted organic chicken bones, onion, carrot, bay leaf, fresh thyme, fresh coriander, fresh spring onion, fresh ginger, grape juice vinegar, purified water, sea salt. Made with 100% organic chicken bones.
*complimentary tasters are available only upon visit at Al Khazzan Park
Delivery:
Dubai:
Next day deliveries for orders before 3PM
48hrs for orders after 3PM
Abu Dhabi City: 
every Thursday and Sunday
In Store Collection at HAPI Restaurant inside Al Khazzan Park - Opposite City Walk
Indulge in the exquisite flavor and nourishing properties of HAPI Roasted Chicken Bone Broth, meticulously crafted to provide you with exceptional health benefits. Made from organic chicken bones sourced locally in Dubai, this collagen-infused elixir offers a delightful and convenient way to elevate your overall well-being.
Our Roasted Chicken Bone Broth is meticulously prepared using a slow-cooking method, resulting in a rich, savory flavor and a nutrient-dense profile. Packed with essential amino acids, minerals, and gelatin, this protein powerhouse promotes vitality and aids in muscle recovery.
Organic chicken bone broths like HAPI Bone Broth are packed with a wealth of nourishing elements, offering a robust array of nutrients such as:
Skin-Revitalizing Collagen
Muscle-Nourishing Protein
Immune-Boosting Vitamin C
Energy-Enhancing Vitamin B12
Vision-Supporting Vitamin A
Bone-Strengthening Vitamin D
Cellular-Rejuvenating Vitamin E
Blood-Clotting Vitamin K
Free-Radical-Fighting Antioxidants
Essential Amino Acids
Health Benefits of HAPI Organic Chicken Bone Broth:
Digestive Wellness: The nourishing gelatin in our bone broth promotes a healthy digestive system by soothing and repairing the gut lining, reducing inflammation, and supporting optimal nutrient absorption.

Joint Support: The collagen and other beneficial compounds in our bone broth help maintain joint flexibility, reduce discomfort, and promote overall joint health, allowing you to move with ease.

Radiant Skin: The collagen content in HAPI Roasted Chicken Bone Broth supports skin elasticity, reducing the appearance of wrinkles and promoting a vibrant, youthful complexion.

Immune System Boost: The amino acids and minerals in our bone broth strengthen the immune system, helping your body ward off infections and maintain overall well-being.
Key Features:
Flavorful Roasted Goodness: Our bone broth undergoes a specialized roasting process that enhances its depth of flavor, resulting in a truly indulgent taste experience. It is a versatile addition to your culinary creations, elevating the taste of soups, stews, sauces, and more.

Collagen-Rich and Skin-Nourishing: Collagen is an essential protein for promoting healthy skin, joints, and digestion. HAPI Roasted Chicken Bone Broth is naturally abundant in collagen, helping you maintain a youthful appearance and supporting overall skin health.

Protein-Packed for Optimal Nutrition: Whether you're an athlete, fitness enthusiast, or seeking a balanced diet, our bone broth provides a superior source of protein. Each serving replenishes your body with vital amino acids, facilitating muscle recovery, and supporting growth.

Essential Mineral Boost: HAPI Roasted Chicken Bone Broth is enriched with essential minerals like calcium, magnesium, and phosphorus. These nutrients contribute to overall bone health, dental strength, and optimal bodily functions.
Experience the unparalleled taste and astounding health benefits of HAPI Roasted Chicken Bone Broth. We are dedicated to providing you with the highest quality organic bone broth in the UAE.
How To Store your HAPI Bone Broth?

5 days in the Chiller
60 days in the Freezer
We recommend portioning the broth into smaller cubes or containers before freezing it to avoid defrosting or thawing the whole batch whenever you'd like to consume it.
Simply heat up and drink straight from the cup, or conveniently use to cook with at home.