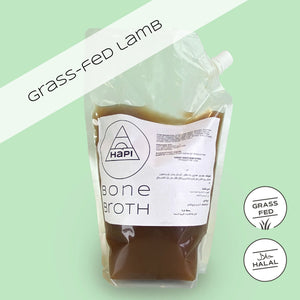 Grass-fed Lamb Bone Broth | 1,000ml
Regular price Dhs. 102.00 Dhs. 96.00
"Mmmm... Lamb"
1 Litre HAPI Lamb Bone Broth / 1 pack = 1 litre
Ingredients: Grass-fed lamb bones, fresh thyme, fresh rosemary, cinnamon, cardamom, carrot, onion, garlic, tomato paste, bay leaf, grape juice vinegar, purified water, sea salt.  Made with 100% grass-fed lamb bones
*Complimentary tasters are available only upon visit at Al Khazzan Park
Health Benefits of Lamb Bone Broth.
Similar to beef bone broth, lamb bone broth contains collagen, calcium, protein, and amino acids.
Studies also show lamb is rich in antioxidants, such as Vitamin A and E, and carotenoids. These antioxidants and other highly absorbable minerals found in lamb bone broth, like zinc and selenium, neutralize damage from free radicals in your body. Zinc is also known to reduce inflammation and boost immune system health.
In addition to halal meat such as grass fed lamb, HAPI Bone Broth recipes include fresh, wholesome vegetables and seasonings. The grass fed lamb bone broth by HAPI Bone Broth contains garlic, which is a powerful immune boosting food and medicine in many cultures. 
How To Store your HAPI Bone Broth?
5 days in the Chiller
60 days in the Freezer
We recommend portioning the broth into smaller cubes or containers before freezing it to avoid defrosting or thawing the whole batch whenever you'd like to consume it.