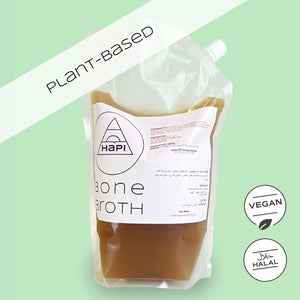 Mushroom Broth | Vegan | 1,000ml
Regular price Dhs. 68.00 Dhs. 52.00
"For Vegetarian & Vegan Lovers"
1 Litre HAPI Vegan Mushroom Broth / 1 pack = 1 litre
Ingredients: Shiitake mushroom, button mushroom, carrot, onion, spring onion, garlic, zaatar, parsley, sage, bay leaf, olive oil, purified water, sea salt.
Made with 100% fresh vegetables.
*complimentary tasters are available only upon visit at Al Khazzan Park
Delivery:
Dubai:
Next day deliveries for orders before 3PM
48hrs for orders after 3PM
Abu Dhabi City:
every Thursday and Sunday 
In Store Collection at HAPI Restaurant inside Al Khazzan Park - Opposite City Walk
How To Store your HAPI Bone Broth?
5 days in the Chiller
60 days in the Freezer
We recommend portioning the broth into smaller cubes or containers before freezing it to avoid defrosting or thawing the whole batch whenever you'd like to consume it.
Simply heat up and drink straight from the cup, or conveniently use to cook with at home.

Health Benefits of Plant-based HAPI Mushroom Broth
Experience the richness and goodness of mushrooms with HAPI Vegan Mushroom Broth. Crafted with care and infused with a delectable blend of mushrooms, this broth is designed to nourish your body and tantalize your taste buds. With its incredible health benefits and irresistible taste, our Vegan Mushroom Broth is the perfect addition to your healthy lifestyle.
Rich in Nutrients: Each sip of Hapi Vegan Mushroom Broth is packed with an abundance of essential nutrients. Mushrooms are known to be a great source of vitamins, minerals, and antioxidants, including vitamin D, B vitamins, selenium, copper, and potassium. These nutrients contribute to overall well-being and support a healthy immune system.
Immune-Boosting Powerhouse: The medicinal properties of mushrooms are widely recognized for their ability to enhance immune function. HAPI Vegan Mushroom Broth contains an array of immune-boosting compounds such as beta-glucans, polysaccharides, and antioxidants. These natural compounds work synergistically to strengthen your immune system, helping you stay resilient against common illnesses.
Gut Health Support: Maintaining a healthy gut is essential for overall health and well-being. The Hapi Vegan Mushroom Broth is a gut-friendly option that aids in digestion and supports a balanced gut microbiome. The presence of prebiotic fibers and bioactive compounds in mushrooms promotes the growth of beneficial gut bacteria, promoting optimal gut health.
Delicious Flavor Profile: Indulge your taste buds with the savory and rich flavor of Hapi Vegan Mushroom Broth. Carefully selected premium mushrooms, along with other thoughtfully chosen ingredients, create a well-rounded taste that will elevate your culinary creations. Whether you're sipping it on its own or using it as a base for soups, stews, sauces, or risottos, this broth is sure to impress.
Vegan and Plant-Based: At HAPI, we believe in providing wholesome and nutritious options for everyone. Our Vegan Mushroom Broth is 100% plant-based, making it suitable for vegans and those following a plant-based diet. It's free from any animal products, gluten, dairy, and added preservatives, ensuring a clean and guilt-free broth.
Versatile and Convenient: With HAPI Vegan Mushroom Broth, you have endless possibilities in the kitchen. Its versatility allows you to use it as a flavorful base for various dishes or as a substitute for traditional broth. It comes in a convenient packaging that can be easily stored and used whenever you need it, saving you time and effort in the kitchen.
Some of the health benefits of drinking bone broth include improved digestion and gut health, reduced inflammation, balanced hormones, as well as enhanced energy and better sleep.
Bone broth also helps to promote healthy skin & hair, and even aids in bone, joint and muscle recovery too.